Cisco ASA 55OOxSeries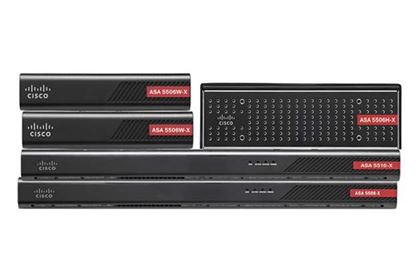 Stop more threats with the threat-focused 5500-X NGFW
Beat sophisticated cyber attacks with a superior security appliance. We offer the industry's first threat-focused next-generation firewall (NGFW), the ASA 5500-X Series.
Features and benefits
Superior multilayered protection
Stay more secure. This NGFW has earned the highest security effectiveness scores in third-party testing for both NGIPS and AMP, blocking 99.4% and 99.2% of threats, respectively.
Simplified management and lower costs
Get visibility into and control over activity across your network. Gain insight into users, apps, devices, threats, files, and vulnerabilities. Extend protection from the data center to mobile devices. It's all possible with our Firepower Management Center.
Unified security services and task automation
Their integrated approach to threat defense reduces capital and operating costs as well as administrative complexity by consolidating multiple security services in a single platform. Automate security tasks to increase agility and speed remediation.
Wide range of sizes and form factors
They have the platform for your you: standalone options for small and midsize businesses, ruggedized appliances for extreme environments, midsize appliances for security at the Internet edge, and high-performance appliances for enterprise data centers.