Network security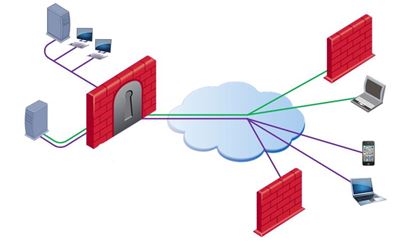 Firewall
Firewall helps ensure your network's availability and the security of your company's resources by protecting the network infrastructure against network- and application-layer attacks, viruses, and worms. It protects unified communications by guarding Session Initiation Protocol (SIP) endpoints and call-control resources. Cisco IOS Firewall is a stateful firewall solution, certified by Common Criteria (EAL4).
Suitable for branch offices, small to medium business environments, or managed services, Cisco IOS Firewall effectively controls application traffic on the network. A fundamental part of the Cisco Integrated Threat Control framework, it works with other Cisco IOS security features, including Cisco IOS Intrusion Prevention System (IPS), IOS Content Filtering, and IOS Network Address Translation (NAT), to create a completely integrated branch-office perimeter security solution.
Cisco IOS Firewall:
•Protects network resources -- Uses existing routing capabilities to offer distributed threat mitigation of worms, viruses, and other network and application-layer threats and exploits
•Helps lower total cost of ownership -- Reduces equipment footprint and minimizes power consumption
•Increases deployment flexibility -- Offers options for transparent and virtual firewall policies on wide variety of WAN, WLAN, LAN and VLAN interfaces
•Helps achieve regulatory compliance -- Provides policy-based access control to help meet Payment Card Industry (PCI), Health Insurance Portability and Accountability Act (HIPAA), Sarbanes-Oxley Act (SOX), and other regulations
•Improves the integrity of Cisco Unified Communications -- Helps ensure that critical unified communications services, such as gateways and other UC network resources, remain available and resistant to potential exploits
Cisco Small Business Video Surveillance Cameras
Your business needs a flexible security monitoring system that you can access anywhere. Cisco Small Business Video Surveillance Cameras provide an affordable and complete physical security solution.
Cisco Small Business Video Surveillance Cameras support:
Flexibility: A wide variety of Cisco Small Business Video Surveillance Cameras means that there is one to meet your needs. This series includes models with excellent low-light performance, models with audio, and models that can be deployed in harsh weather conditions using optional outdoor enclosures.
Accessibility: An optional Internet feed allows you to monitor cameras from a browser no matter where you are. You can also remotely control some models to better focus on what you need to see.
Adaptability: Certain models can perform a variety of operations using multiple interchangeable lenses, such as zoom and wide-angle.
An Array of Transmission Options: With optional Power over Ethernet and wireless connectivity, your cameras do not have to depend on electrical outlets or other wired connections.
With Cisco Small Business Video Surveillance Cameras, your business space can always be within your reach.